I'm a marketing professional with 15+ years of experience with extensive knowledge of all things digital–with a UX and human-centric focus, putting your visitor/donor at the forefront while showing them the beauty that is your brand; I create websites and digital strategies including email automation and social media. I specialize in mission-driven work with nonprofits to strategize awareness and fundraising and to help make a difference.
I am 100% committed to equity in health and everything.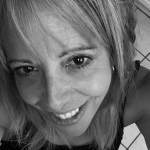 "Choose a job you love, and you will never have to work a day in your life."
– Confucious
I LOVE WHAT I DO AND IT SHOWS
I dive deep to develop the voice your audience needs. First,I get intimate with your brand. Then I use emotive content (both writing & design) and empathic listening to spread your message to the people who need to hear it. I was a writer first but fell in love with design in college. I've made a solid career using both: I emphasize my words with compelling design and my creative visual skills make my words pop. Together they create an elegant, cohesive message for your brand and mission.
More impact with less fuss. This is central in my approach to design and strategy, and also in my daily life. Less complex problems = more simple, manageable solutions and cleaner communication. It works.
Nicole is really talented and helped Lyric Opera save a lot of money. Her technical skills were on point and her communication skills were really helpful within our team and with our development company. She finished our site on time, within budget, it looked fantastic, and our elite donor was thrilled.
Nicole improved our website dramatically and helped our residents find vital information in a way that was truly impactful. She significantly and rapidly increased our digital engagement. Most importantly, she is professional, reliable, and always ready to help out.
I worked with Nicole for many years and would recommend her highly. She is one of the rare designers that understands strategy, art, communication and business- and always approacheds every project as an opportunity. An all-round great designer."
Nicole has been doing our site for the past 12 years. She's done three redesigns for the DuPage Pharmacists Association and each site has been better than the last. She helped me figure out what we needed when I had no idea. Our members love our site.
Nicole is very professional and great to work with. Our previous website was really crowded and we were losing clients when they couldn't find the information they needed. Nicole organized our site, made it look great, and met every deadline. She is reliable and that's really rare.
Designed with care,
filled with creative goodness.
BRANDING
Effective brands are built from well-defined, 360° experiences. Through every detail consistently executed across channels, a brand is everything from customer experience, partnerships, each asset, and so much more.
Brand Identity & Persona
market research
Copywriting
content, Messaging
vendor liaison
Public Relations
Web & UX DESIGN
Focused on functionality and designed with purpose. I've worked on brands, websites, social content, internal and extermal comms. Compelling writing & design. I locate the problem and find a creative way to solve it.
wireframing
client journey
wordpress
html/css/java
keyword research
blog post  & text creation
divi/elementor/wp bakery
CONTENT CREATION
Content is king (or queen). I think out-of-the-box and create quality content that fits the brand aesthetic and latest trends. I deliver relevant, educational content your audience wants to learn about or see you stand for.
Creative Direction
EDUCATIONAL CAMPAIGNS/Production
Digital Newsletters
Social Media
Video editing & animation
Creative Suite/ Canva
DIGITAL STRATEGY
Managing digital, social, content and marketing campaigns, I transform data into realistic strategies that deliver results. I create strategic, creative campaigns that align with branding, message, market trends, and demographics.
SEO/SEM
Paid Social
Email segmenting and analytics
Traffic Analysis
Media Placement
google analytics
CASE STUDY: HOW I SPENT 2021
Cook County Department of Public Health 
Web Development and Social Media Consultant 
Cook County is the second largest county in the United States serving over 2.5 million residents. I came onboard to help people navigate their way through vital information during the pandemic: I simplified the language which was too "government-speak," I clarified the UX of the website so residents could find vital vaccine and testing information, I made the site accessible, I created a wildly successful social media strategy, and did all agency graphic design by freshening the branding. I worked with internal and external stakeholders and Community Based Organizations to create campaigns for underserved communities. It is the most important work I've ever done.
Nicole is a pleasure to work with---she jumped in at a challenging time with COVID and the vaccines, and she hit the ground running. She went above and beyond in her role with us.
Where AM I?
Let's Find Out!